A Joyful, Chaotic Reunion
Famatta's Story
At the height of the Ebola outbreak, 14-year-old Famatta watched her father, a pastor, take one of the church people to the hospital. When he returned, he told his family how the woman had died in his car while waiting for medical attention. Over the following days, word spread, and people shunned Famatta's father for helping the woman with Ebola. Rumors even began to circulate that Famatta's father and family had contracted Ebola as a result. No one wanted to take the risk of getting close enough to find out.
By the time Famatta's father did fall ill with Ebola, there was no one to help him. Famatta and her sister watched their father–and eventually their mother–grow weaker with the disease. Famatta saw people come to her home and carry her father away. He never returned. Her mother, too, died a short time later.
For a short time, Famatta's older sister tried to care for her, but the bank where she worked fired her since her parents had died from Ebola. The community, too, shunned them. Finally, Famatta's sister asked if she would like to go to Lifesong and she said yes! She fit right in with the other students, making friends and learning more about Jesus. No doubt her parents would be thrilled to know on New Year's Day 2016 Famatta chose to be baptized to identify as a child of God!
It is nice at Lifesong. The people are kind to us. They treat us as if they have been where we are. Not for one day have they made me feel like I didn't have parents. We have a lot of fun.
—Famatta
According to UNICEF, nearly 150 million children fill orphanages around the world. Retail ROI has made these precious children a priority by providing food and supplies for distribution during crisis situations to support communities, like Famatta's, with soup kitchens, bags of rice, and sanitation kits. In short, they work to create brighter tomorrows for the most vulnerable children. We are grateful to Retail ROI for their love and support of the children in Liberia before, during, and after the Ebola crisis.
After a recent visit to Liberia, Greg Buzek, of Retail ROI said—
"When we got there, nobody had touched the children for 2 years because everybody was afraid of being affected. They were quite shocked when we were willing to touch the kids, love on the kids, and play with the kids. We never dreamed that we would have an impact of helping them overcome that stigma of Ebola." 
Arriving in Liberia after the Ebola crisis ended was deeply moving for Lifesong Liberia Liason Kay Knapp. She writes the following:
We were filled with awe that God had protected all of our children and staff.  It was a joyful, chaotic reunion with those we love, those who are a part of us. The entire 10 days felt like a celebration, one that seemed almost impossible a year earlier. 
The children had grown and changed, marked with a new maturity and awareness. They were overjoyed that we were together again! Among them were the newly orphaned, precious sons and daughters of men and women who had died in the crisis. Our hearts bled for them, as we looked into their eyes, liquid with grief. We hugged and cried and prayed with and for them, feeling so painfully inadequate in the face of such loss. And yet, they showed us that they can still sing and dance and giggle.
The adults articulated their anxieties and fears, but also their bedrock faith, their thankfulness and trust. It's as if things are clearer for them now, what really matters more visible.
We have all been changed, understanding more deeply how fragile life is, and how gracious our God!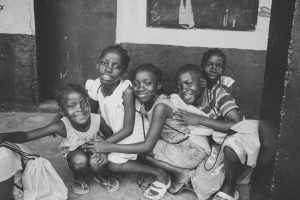 … To give them a beautiful headdress instead of ashes, the oil of gladness instead of mourning, the garment of praise instead of a faint spirit; that they may be called oaks of righteousness, the planting of the Lord, that He may be glorified.
—Isaiah 61:3

YOU CAN MAKE AN ETERNAL IMPACT.
Each month you can make a difference in the life of a child in Liberia that can have an impact for eternity. Your monthly sponsorship of $50 provides one child: nutritious meals, clean water, a safe, caring environment, education, health care, and Biblical training.