"We Get To Be His Family!"
The statistics hold true–older children are less likely to be adopted. And in Ukraine, as these young adults age out of orphanages, 70% will face organized crime, prostitution, suicide or drug overdose within two years. Thankfully, age didn't stand between Russell & Kellie and their 16-year-old son, Elmir. Shortly after coming home, Kellie shared–
After nearly one year of pursuing adoption and a total of about 8 weeks in Ukraine, we are so grateful to share: we are all home! Thank you for helping make Elmir's adoption a reality for our family.
While we were in Ukraine, we were able to really embrace and experience the culture. Being in a country for that amount of time offers unique experiences and a way to be able to relate to Elmir.
Experiencing homesickness and missing familiar foods, sounds, and sights helped us in our transition back home. We feel like we can understand a piece of what Elmir may be feeling.
Life Post-Adoption
Elmir started his first year in American high school the week after arriving home. It's been a whirlwind of adjustment for all of us, but especially for him. The high school he's attending has a larger population than his village in Ukraine. After figuring out where his classes are and making a few friends, he came home after the first week with a smile on his face, "That was a whole week? It was so fast! But I feel it… I'm tired." That's a huge stride in such a short amount of time!
Shortly after coming home, we found out that Elmir's orphanage/boarding school is now closed. All of the kids have been moved to another orphanage. While the news was difficult for Elmir to hear, we are so thankful that he didn't have to go through the change and adjustment to yet another orphanage. He joked, "I only had to move 30 hours across the ocean." How incredible is God's timing?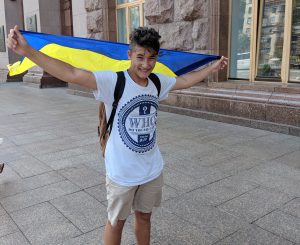 Thank you from the bottom of our hearts for making this dream a reality. Our son is home!
This is a dream for him too. He's incredibly grateful to have a family. It's a relief that he's not out on his own now. At his age in Ukraine, he could be in trade school and living on his own without a family to guide him. We are continuing our education as adoptive parents so we can do our best raising him in a few short years. What an incredibly humbling calling we will live out for the rest of our lives. We get to be his family! Thank you!
We praise God for families who say YES, especially to often forgotten older children. As Russel and Kellie mentioned, the call to be an adoptive parent is challenging and humbling. But God never calls us to go anywhere He won't go with us. Is God nudging your family toward adoption? Today's a great day to seek His will in prayer.
---
READY TO TAKE THE NEXT STEP IN YOUR ADOPTION JOURNEY?