"Simple and Freeing": An Internship in Haiti
It only took a 2-month internship in Haiti for Bri to see a whole new side of life.
She spent the summer in Bercy, Haiti through Lifesong's internship program, which offers 2-3 month international internships for college students who love Jesus and want to show His love to children in need.
When Bri came home, she didn't want to forget a thing. So she wrote this down–
---
The past two months in Haiti were nothing short of amazing.
God showed His grace, majesty, and tender friendship to us in ways that I have never experienced before. After returning home and sorting through all that happened over these past two months of this internship, three words stuck out to me the most:
joy, gratitude, and simplicity.
JOY
The people in Haiti live out 1 Thessalonians 5:16-18 seemingly effortlessly–
"Rejoice always, pray without ceasing, give thanks in all circumstances; for this is the will of God in Christ for you."
No matter the circumstances, the amount of money, or the number of things they had, the Haitian people praised God in all circumstances. These past two months showed me first-hand that joy is not based on our circumstances!
I have never heard prayers so sincere (and long) or praise and worship so powerful as I did in Haiti. The Haitian people live a life truly marked by joy in all circumstances.
GRATITUDE
God so gracefully grew my heart to be a more grateful one after this summer. So many of the small things in my day-to-day that I view as "expected" or "a given" may be seen as a luxury to those whom I spent my summer with. This stirs my heart toward gratitude in the big and small things–the good and the not so good things.
One day during a kid's camp, the kids were given a task to write down 10 things that they viewed as a problem in their nearby village. All of the lists looked a bit like this:
1. Water, 2. Food, 3. Money, 4. Education, 5. Jobs, 6. Security, 7. Deforestation, 8. Homes, 9. Electricity, 10. Government
All the things that I take advantage of every day and don't take time to slow down and thank God for. I heard not too long ago in a sermon that gratitude not expressed is gratitude not received. Doesn't this also apply to our relationship with God and the things He gives us daily?
A bit of encouragement: after the kiddos wrote down these problems, they went on to discuss lengthy, practical solutions! In the upcoming months, they will be planting trees in their villages to help the environment, taking a step toward a solution.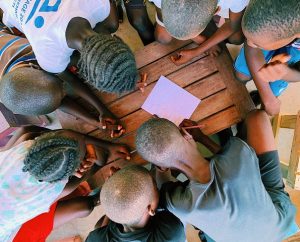 SIMPLICITY
I would describe life in Haiti (from my perspective) with two words: simple and freeing.
There was something so beautiful about waking up and only having a suitcase full of clothes to choose from. Not worrying about my split ends, if my nails were done, or if my eyebrows were nicely trimmed.
Laughter was found in the simplest of things, like blowing bubbles, cooking, or trying to dance with older ladies from the village. There was something so freeing about not being wrapped up in appearance,  worrying about what's trending, or constantly feeling the need to check social media. I hope that I can bring this form of simple living back with me to the states.
God truly exceeded all of my expectations this summer. I pray another door opens for me to return soon!
It's not too early to begin thinking about an internship.