Is This A Bad Reason to Adopt?
The road to adoption is messy. There's a reason why only 5% of practicing Christians adopt, even though 38% have considered it. To consider adoption is to embark on an introspective journey where we see ourselves in our most vulnerable light. But take heart! Ahna is a mom who can relate. Here's her journey.
---
We are adopting.
Whew. That still hits me sometimes.
So… how did we get here? Why are we adopting?
First, we wrestled with why not to adopt?
It's expensive. It can take a long time. The process is complicated. There are many uncertainties, It's hard to adopt healthy young kids. What if he has health problems? It would disrupt our family. Many have special needs. They may look different than my family. My biological kids might not like it. My spouse doesn't want to. I don't want to. I don't feel called to.
To go back to the original question…
Why are we adopting?
I could say that according to UNICEF there are over 153 million orphaned children in the world today (Childinfo, UNICEF, 2011).
But that wasn't it.
I could mention that in the United States today there are nearly 400,000 children in the foster care system and over 25% are waiting to be adopted. Of those 100,000 children, 32,000 of them will wait for the next 3 years for someone to officially take them home (AFCARS Report, 2012, No. 20).
But that wasn't it either.
I could quote the Scripture verse from James 1:27 that says, "Religion that is pure and undefiled before God, the Father, is this: to visit orphans and widows in their affliction…"
As convicting as that is, it didn't lead us to adopt.
I could humbly point out that within the Evangelical Christian church 38% of Christians reported they had strongly considered adopting, but only 5% actually did (EthicsDaily, 2013).
Devastating but still not the reason.
Do you know why we initially looked into adoption?
I didn't feel like being pregnant again.
I didn't feel like being pregnant again.
That's the truth of it. That's where it all started.
That sounds like a really bad reason to adopt.
I thought so, too. Zach and I always knew we wanted four children. But ever since having Lillian almost two years ago, I have felt done being pregnant. I would pack away maternity clothing and groan at the thought of having to get it out one more time. But we still wanted one more.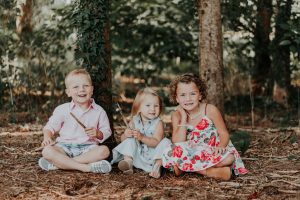 For those of you who would give anything to be able to get pregnant or to get pregnant as easily as I did, my mama's heart aches for you. I will never be able to empathize. I am incredibly grateful for the ease in which we have been able to get pregnant, and I thank God daily for our three beautiful, healthy children. But please don't stop reading yet.
Despite what sounds like a bad reason to start, knowing Jesus means we never finish where we started. Hallelujah.
For me, it started with not wanting to be pregnant again but still knowing without a doubt we were meant to have four children. I just could not come to peace each time we thought about getting pregnant again.
The term "indecisive" has never been used to describe my personality. I am a move forward, rarely glance back, 10 steps ahead, own-the-process type of person.
---
CONSIDERING ADOPTION?
We can help. We provide adoption financial support to families, like Zach and Ahna's, to help them overcome the financial barriers of adoption.
---
Indecisiveness is not my thing.
But more importantly, I am guided in life by the Holy Spirit Who is as real as my decisively genetic disposition. When I accepted Jesus Christ to be my Lord and hope beyond this world, He gave me His Holy Spirit—a living, supernatural Counselor Who dwells in my soul and guides me in accordance with God's character and will for my life.
Perhaps the greatest testimony to the Truth and the reality of Jesus Christ in me is the way that I can have my mind made up on something and then suddenly change it while feeling complete peace. Sometimes I think it happens simply so that Jesus can have the opportunity to show up and make His presence known.
Adoption was no exception. Zach and I have supported the care of orphans whether it be our work in orphanages in college, financially supporting others, or through prayer. But I believe that although adoption is a wonderful thing, it is not necessarily a wonderful thing everyone should do.
So in the fall of 2018, I started to pray. I asked God to show me His will for our family. I asked Him to either give this mama's heart complete peace about getting pregnant again or to break my heart for adoption.
He broke my heart.
This past January I clicked on an Instagram video of a little girl meeting her adoptive family for the first time. As I watched the video of this sweet, terrified little girl being put into the arms of her forever family, I started sobbing.
I was suddenly flooded with the sense that our last baby would not be of my womb and that God would lead us to him if we were willing. I kept thinking of our child, who had been predestined for our family before he was even in his mother's womb out there in the world one day, and I felt as though I was jumping out of my skin desperate to find him.
In the midst of the tears, something else struck me. I realized that if we chose not to adopt, it was actually us who would miss out on the blessing. Well, I started sobbing all over again. I mean I pretty much sobbed on and off for a solid two hours. My kids thought I had lost it.
And the truth is, I had.
I had lost my preconceived idea of what our family would look like. I had lost my own plans for our future. And I lost the feeling of indecision and a glorious peace filled me instead. A peace that is nothing short of supernatural despite overwhelming uncertainty—the uncertainty of how to raise the funds, how to decide on which child, how to pick an organization, how to determine what medical problems we can handle. There was peace. Oh to know Jesus.
I could tell you about many miraculous ways God has led us since then, but for now, I will end this post by finishing our announcement.
We are expecting baby #4! We are adopting a precious baby boy from the Pacific Island of Samoa. He will be 1 to 3 years old when we bring him home. It will take an estimated three to four years until we are matched, so he probably is not even been born yet.
And so… our adoption journey begins!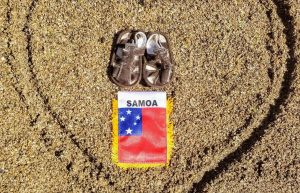 ---
[row][col]
Request Free Adoption Resources
[/col][/row]