Your Longing & The Gospel
Happy New Year!
If you rang in 2021 with a heavy heart or a keen sense of the world's brokenness, be encouraged—
Our longing points us to the beauty of the Gospel story.
As the following Lifesong Family shares, "Just as we waited with purposeful anticipation of the joy that would come with the finalization of our son's adoption, our hope in the Gospel echoes that same joyful expectation of our own adoption as sons and daughters of God."
This is their story, in their words.
---
Our journey of adoption started in May of 2018 when we first began the application process with our agency.
By September of that year, we had completed the initial approvals and were waiting to be matched with a child. The initial wait took a little over 6 months, but we were overjoyed in March of 2019 when we received the opportunity to accept a referral for our son, Gabriel Sanket, who was just 7 months old living in an orphanage in Orissa, India. For us, there was no doubt that this was the son God had intended for us. We quickly accepted his referral and began the next stage of paperwork and waiting.
Although adoption timelines are never fully predictable, the estimates of Indian adoptions at that time indicated that we would likely be able to travel within about 6 to 9 months after accepting the referral to bring our son home. However, in His sovereign plan, God chose to work that timeline much differently for our family. Many delays along the way meant that our 6 to 9 months stretched into 19.5 months of waiting before we were finally united with Gabriel in India on November 10, 2020.
Unexpected Loss
At times, the wait of our adoption journey was agonizing. So much of the wait and the delays we faced along the way never did make sense, especially as we remained convinced that we were pursuing something so close to the heart of God.
We suffered losses in our extended wait that we will always grieve this side of eternity. In May of 2020, we very unexpectedly lost our father/father-in-law, Phil. His death left a huge hole in our hearts and our family. Phil was overjoyed about the adoption of our son and had prayed for and supported us at every step along the way.
We grieved his loss not only for our family but for what it meant in our adoption story with the realization that we would never have the chance to introduce our son to his Papa who had already loved him so well from afar. Although we grieved with the hope of heaven in view as Phil knew and had trusted Jesus for salvation, it was still a painfully difficult time amid an already very challenging adoption process.
A Renewed Focus
Through it all, however, we remain convinced that at every step along the way, God was sovereignly present and good in our process.
We found ourselves constantly returning to, leaning on, and praying through Scriptures (especially the Psalms) that reminded us of who we knew God to be and of the countless ways that He had proven Himself faithful to his people.
We learned more fully how to place our hope and trust not in what human hands could accomplish on our timeline, but in God alone, who we knew to be both faithfully good and perfectly sovereign in all things.
We knew Gabriel Sanket's life had been in the loving hands of his Heavenly Father since the day he was born, and we were called to trust God even when the path seemed so very dark, confusing, and difficult to us.
We saw in Scripture how often God calls His people to wait and persevere and reveals Himself to them as He does.
We also experienced the beauty of the ministry of our fellow brothers and sisters in Christ in the intensity of our wait.
We were prayed for regularly, lamented with in times of disappointment and sadness, and exhorted with Scripture to remember who God was in it all. This happened within our local church context, through connection with other adoptive families, and through the ministry of adoption organizations where we received the very tangible gift of funds to help us complete our adoption process.
We were so humbled by the people we had never met who actively participated in our adoption story by giving generously to their work and praying for us along the way.
Longing for Something Greater
As we reflect on the year 2020, we realize that many people feel the utter brokenness of our world and the deep desire for things to be made new. Some long for the stability of a job to replace one that was lost or hope for a cure to a disease ravaging a loved one. Some long for an end to infertility or the strain of a broken relationship. Still, others mourn the end of our time with a lost loved one and long for a chance to see them again. All of us are desperately waiting for things to be "back to normal," to relate to people as we once did before the COVID pandemic.
These days, it takes very little effort for any of us to identify with the difficulty of a wait and the longing that comes with the hope that something will be made new.
This longing points us to the beauty of the Gospel story.
Just as we waited with purposeful anticipation of the joy that would come with the finalization of our son's adoption, our hope in the Gospel echoes that same joyful expectation of our own adoption as sons and daughters of God.
The Bible tells us that apart from Christ, we are all spiritual orphans, men and women who because of our willful sinfulness are dead in our sins and separated from God. On our own, we are utterly helpless to work our own salvation and are woefully lost to the sin and brokenness of our world and our participation in it. But God, in His great love, has not left us there. Through the work of Christ on the cross, we—who once were alienated from God and spiritual orphans—become sons and daughters of God.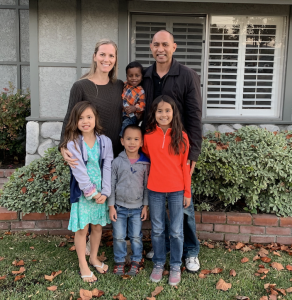 Calling Him Son
Gabriel is such a blessing to our family, and it is our privilege to call him son.
Although we are acutely aware of our own imperfection and inadequacy, we pray our adoption story will be a testimony of the Gospel and a picture to the world of how God loves and cares for His children. As Gabriel's joyful laughter echoes through our home, we are reminded each day of God's abundant love for us and the beautiful truth that as the Redeemer, He makes all things new in the goodness of His time.
Each day gives us a chance to watch as the Lord works in both our hearts and Gabriel's to redeem the brokenness that necessitated his adoption here on earth while we eagerly anticipate the time when all things will be made new in the joy of Jesus' presence for eternity.
---
DON'T WALK THROUGH ADOPTION ALONE.
If you're adopting or considering adoption, we'd love to walk beside you! We offer matching grants, interest-free loans, fundraising tools, and a FREE online crowdfunding platform to help you overcome the financial hurdles of adoption.