From India to the U.S., the Smith family shouts out praise.
It goes without saying that no family is perfect and adoption, especially, isn't easy. Yet with the Lord by the side of the Smith family, they SHOUT out praise!
In their words…
"We know from the literature and our previous experiences with adoption that not all adoptive stories are smooth and easy. Many 'homecomings' involve tremendous loss, awkward adjustments, and many hard months.
But we did not experience these challenges with Kakoli and Ethan. Even now, we often SHOUT out praise to the Lord for His immediate kindness to us and all of our children."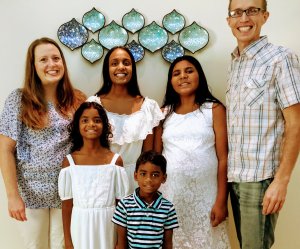 Coming Home
"We received our children into our care while in India, but we were unable to depart India for two additional months. Lifesong was understanding and flexible with us, and when we were finally able to return to the US, they were fully supportive."
Even while knowing that adoption isn't always easy and that the financial costs associated with the homecoming of their children are steep, they trusted God throughout the process. This ultimately led to four orphaned children being loved and cared for. And Lifesong was there to help.
"We were initially timid and unsure of raising funds for an adoption, but even with this Lifesong was patient and caring with us. From the beginning to the end, Lifesong was practically easy to work with, though all the twists and turns of our adoption journey."
"We were shocked but felt blessed to discover an organization committed both to Christ and adoption."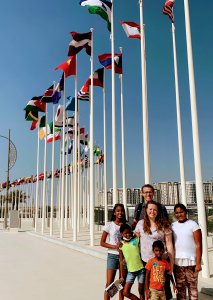 God's Timing
When asked to name one God-thing that comes to mind, Karen Smith replies…
"Just. ONE. THING?!?!?"
"We are mindful of God's mercies and how He mercifully protected these two children, especially with their achingly painful story. Just at the right time, the Lord allowed us to embrace them into our hearts.
Through all of our transitions, our family has itself become the unifying, bonding theme.
Our children have been with us now for over a year and a half. Nearly every day, we see in them so much strength, joy, beauty, sweetness… We can't imagine life without them.
They are so much a part of the fabric of our family that we can hardly recall life before 18 months ago when they joined us. We see the Lord bring healing to their pain and grief, even while THEY bless us each day with their incredible lives."
With support from people like you, Lifesong helped make the Smith family's adoption possible. Praise God!
Considering adoption?
We guide adopting families through the fundraising process, removing the financial barriers to adoption. Download Lifesong's free adoption financial assistance application to receive matching grants, interest-free loans, and access to our free crowdfunding platform!
Want to support adoptive families?
You can fund grants and loans to help families overcome the financial hurdles of adoption, as well as support orphan care ministries around the globe! 100% of your gift directly helps children in need.