Joy in Obedience: An Adoption Journey
Guest blog by David & Jackie Askvig
In early 2015, we had two young children and began to feel God pushing us toward adoption.
We narrowed our focus to foster care and felt God confirming that we should begin our journey right away. We sold our home and spent 6 months renovating our new house and completing our foster license. Soon, 3 young brothers were in our home. And shortly after, we found out we were expecting twins.
We fostered the boys for 13 very long months before a couple from our church adopted them. This year was chaotic and incredibly difficult, but God taught us the value and joy of obedience to listening to what He asks us to do. 
In the spring of 2018, we began feeling a pull toward foster care again but were hesitant and afraid after the very hard year of having seven children under seven years old. We fostered a 12-year-old girl for a month, then took a break while David settled into a new job. 
That May, we saw a photo of a 15-year-old boy on Facebook.
We were stricken by his appearance—he was so tiny, he looked like a baby.
You see, in some other countries, when a baby is born and is different from other babies in how they look or learn, they are sometimes sent to live in an orphanage with no family, not enough food, and very little attention.
We prayed for him as a family, asking God to bring forth someone to adopt him. Days later, as we continued to pray, God clarified that we were that family that we had been praying for.
He wanted us to adopt that little boy in the pink shirt.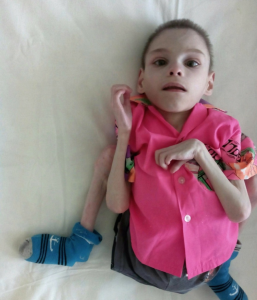 We were terrified, incapable, and reluctant. But God persisted.
We chose to obey, and that settled it. We were adopting this fragile, starving, special needs boy from Ukraine.
When we shared the news with our friends and family, our fears were confirmed. They met us with discouragement, hesitation, skepticism, and outright criticism. They thought we were ruining our lives. We admitted that we, too, felt like this adoption might be a bad idea in the world's eyes. 
But it was not our idea. It was God's idea, and we would continue to pray for His will to be done, for Him to open and close doors as He saw fit. Each step of the way, He opened those doors.
6 weeks later, another boy was brought to our attention.
He would be turning 16 soon, making him unavailable to adopt. He desperately wanted a family and was pleading to his friend's adoptive father to advocate for him, too.
When God called us to include that boy in our adoption too, we again dragged our feet, even as He opened door after door to confirm His path and make it possible. So in July, we added a second son to our adoption.
Throughout the process, we had been studying the story of Gideon with our children. Honestly, we felt a lot like him at this time.
Gideon was called by God to save Israel, and he questioned God many times, asking for clarification that this was truly God's will. God graciously answered him each time. God also cut Gideon's army of 30,000 men down to 300 men, saying in Judges 7 that He did so so that Israel would have no doubt it was God and not their own hand that had saved them. 
We felt inadequate adding just one special needs boy to our family, and now we were being asked to add two. Surely, no one would wonder if we were doing this by our own strength. It would be very apparent that it was by God's hand alone. 
And so we brought home our sons.
Miles Gideon and Jonah Dmitri came home in November of 2018, six months after beginning the process. In their first year with us, we spent $42,000 on the adoption alone and $19,000 on out-of-pocket hospital bills. Miles had 3 surgeries. Jonah had 6 surgeries and spent weeks in the hospital and months laying in a hospital bed at home. 
We often wonder why we have chosen this life, but each time God reminds us that He chose it for us.
This is His call for our lives! We have dealt with anger, bitterness, regret, exhaustion, overwhelm.
And yet there is joy. Much joy.
God has given us exactly what we need. Sometimes He only gives us enough strength for the next hour. Sometimes the joy is only enough to get us through the night. But He is good, and there is much goodness in obeying God.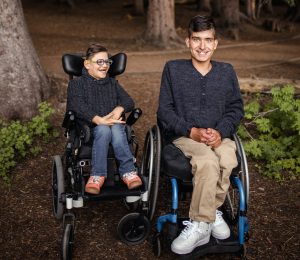 Hebrews 12:2 reminds us that Jesus also obeyed His father when He, for the joy that was set before Him, endured the cross.
Sometimes we obey for the joy before us, because doing what is right isn't always immediately rewarded or praised. Obedience often means discomfort, suffering, pain, anguish, despite God's pleasure with us. 
2 Corinthians 1:8-9 says—
For we do not want you to be unaware, brothers, of the affliction we experienced in Asia. For we were so utterly burdened beyond our strength that we despaired of life itself. Indeed, we felt that we had received the sentence of death. But that was to make us rely not on ourselves but on God who raises the dead. 
Our God who raises the dead. He took a 16-year-old boy weighing a mere 15 pounds—that's how much a 4-month-old baby weighs—and tripled his size. Miles is now 48 pounds and has grown over 12 inches since coming home. He has changed in so many ways, and his infectious laugh brings joy to all he meets. 
Our God who raises the dead. He took Jonah, who looked sad and quiet. He seemed much healthier than Miles on the outside but was actually full of infection on the inside. God saved his life and gave him peace and optimism throughout a really terrifying medical journey. 
God has given our bio children deep love and affection for their two new brothers. They have accepted them into our family so beautifully. 
He has brought people to Christ upon witnessing our boys' transformation and has spread the Gospel across the earth with this adoption story. 
The joy is not easy to see in the diaper changes and the hospital stays or the lifting of wheelchairs or the sleeplessness or the language barrier. But it is there. We're clinging to Jesus' promise in John 15, that if we keep his commandments, His joy will be in us, and it will be full and complete. 
Lifesong blessed our family with a matching grant.
This grant came toward the end of our adoption process and we were feeling hesitant, wondering if we would actually meet the match. But we met it in a matter of two days!
Some people at first didn't donate because they felt like their small donation wouldn't make a big impact. But they then chose to donate once they knew Lifesong would be matching their gift, thus doubling their contribution.
Thank you so much, Lifesong, for your gift of a matching grant and for helping us bring our sons home!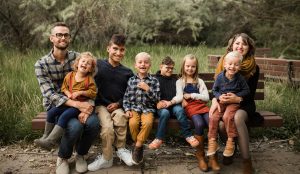 YOU MAKE STORIES LIKE THIS POSSIBLE.
Between adoption fees and medical expenses, the Askvig family suddenly needed $61,000 to give Jonah and Miles a safe, loving home. Many families considering adoption become overwhelmed by such steep figures—it's actually the number one reason such families don't adopt.
But once the financial barrier of adoption is removed, families can focus on what really matters: helping an orphan become a son or daughter. 
With support from people like you, Lifesong has provided adoption financial assistance to over 9,000 adopting families, like the Askvigs. 93% of those families could not have adopted without financial assistance.
Help orphans become sons & daughters.