Never Forgotten: Rivaldo's Story
Rivaldo was born in La Gonave, nicknamed "Haiti's forgotten island."
This small island is near Port-au-Prince, Haiti's capital, and the people who live there are no strangers to hardship. For decades, they've lived with unbearable levels of poverty, lack of access to education and human services, and a crumbling infrastructure.
When Hurricane Matthew struck in 2016, roughly half of the island's infrastructure was destroyed, and they're still recovering.
But God cares deeply for each person on the small island of La Gonave. He has not forgotten them.
We can see his concentrated care and faithful provision in the life of Rivaldo. He brought Rivaldo to live with his cousin—his godmother—on Haiti's mainland. And in 2017, God brought Rivaldo to Lifesong Christian School in Bercy.
See how God worked through people like you to reach Rivaldo and change the course of his life.
When Lifesong Christian School in Bercy began in 2017…
Rivaldo was one of the first students who enrolled. At the time—due to poverty and lack of access—he had been out of school for three months.
He represented a growing number of students in Haiti for whom—
There's a 50% chance they don't attend school regularly. 

Lack of schools, high tuition rates, and socio-economic constraints severely limit school enrollment.

Tuition is the #1 barrier to education. 

4 out of 5 schools in Haiti are privately run. Unfortunately, even at the least expensive private schools, tuition is too high for many low-income families. 

Schools are overcrowded and under-resourced. Teachers often go without pay, which also negatively impacts the quality and consistency of a student's education.
So Lifesong Christian School—made possible by dedicated school staff and faithful givers—was a direct answer to prayer.
When Rivaldo heard about Lifesong Christian School, his godmother registered him right away. He started in 10th grade, determined to do his best and learn as much as possible.
"I can say that coming to Lifesong Christian School was a blessing for me, especially on the educational level. Without Lifesong, I think that maybe I would have quit school to do something else."
—Rivaldo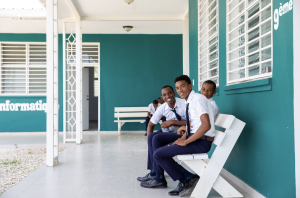 Over the past four years…
Lifesong Christian School in Bercy has grown to serve nearly 200 students.
With students ranging from 7th to 13th grade, each one receives all necessary learning materials, quality instruction from qualified teachers, medical care, daily meals, and discipleship—all at no cost to them or their families.
Most importantly, in Rivaldo's words, "Lifesong helps you know Jesus."
Rivaldo and his classmates have had the opportunity to dream about and work toward their futures because of the good education they've received. Rivaldo has always dreamed of studying Computer Science.
"I will always thank God for everything he is doing in my life, because he has changed me, he changed my behavior, and he changed my life."
—Rivaldo
On Saturday, July 31, 2021…
26 graduates crossed the stage to become the first-ever graduating class at Lifesong Christian School in Bercy, Haiti.
The ceremony was a beautiful picture of God's promises and blessings, made possible because of people like you.
Rivaldo was one of the graduates.
"I graduated on July 31st. It was one of the best moments of my life. I made a lot of sacrifices for that—I put so much effort in my studies, to be one of the best students at the school."
Next up: He plans to study Computer Science at University, Lord willing, starting this November.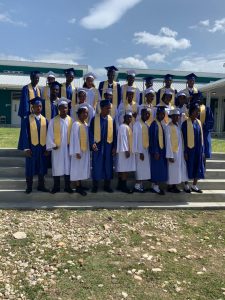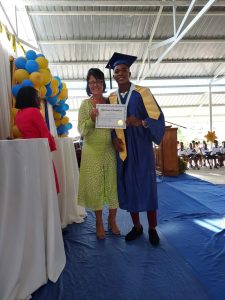 When you partner with Lifesong…
you're partnering with in-country leaders to bring holistic, Gospel-centered care to orphaned and vulnerable children. Right now, people like you are supporting 18,007 children across the world—like Rivaldo—giving them the tools they need to break the poverty cycle and one day lead their families for Christ.
Every person and every effort is absolutely important.
Not for a moment has Rivaldo been forgotten. And by God's grace and with support from people like you, he knows it.
Will you give today to reach even more children in Haiti and around the world?
YES! I WANT TO SEND GOSPEL-CENTERED CARE TO ORPHANED & VULNERABLE CHILDREN.