One Family's Journey to Adopt 3 Siblings
There's a deep need for more adoptive families to say "yes" to sibling sets.
Having already gone through the devastating loss of their parents, it's an incredible blessing and source of security to have a sibling by their side—rather than being placed in different homes.
Knowing this, Aaron and Julie launched into the adoption process with the intention of adopting siblings from India. And while adopting multiple children can lead to more financial costs, God graciously made a way for three sweet siblings to come into their family.
In their words…
After contemplating and praying about adoption for many years, we officially began the process in January 2020 with the intent to adopt a sibling set from India. After completing the initial adoption requirements and home study, we registered with the Indian adoption authority.
In September 2020, we were matched with a sibling set of three little ones, two boys and a girl, ages 6, 4, and 2.
When we said "yes" to this sibling set of three in October 2020, we knew we did not have the finances to afford all the adoption and travel-related expenses with our own income and savings. We trusted that if this is what God wanted for our family, He would provide all that we needed. And He sure did!
Adoption Fundraising
We applied for several grants and received three significant ones, one of which was a Lifesong matching grant.
Receiving a Lifesong Matching Grant funded by the Tim Tebow Foundation Adoption Fund was a direct answer to our prayers and just the motivation we needed to start fundraising! The money was a huge help. Because of it, we did not have to stress about finances during the majority of our adoption process. The fundraising Lifesong provided made it easy for donors to give and easy for us to keep track of what was coming in.
Once we let our community know about our financial needs and the matching grant we were awarded, friends, family, and even complete strangers donated money toward our adoption.
With the matching grant, we were able to raise just over $45,000 through fundraising! What an answer to prayer! We were able to complete our adoption without taking out loans or dipping into our savings!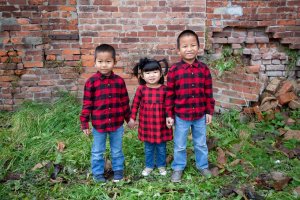 A Family of Five
A year later, in September 2021, after many months of waiting and COVID-related delays, we finally got the green light from our adoption agency to travel to India to pick up our children!
In early October, we boarded a plane as a married couple, as a family of two. And 14 days later, we returned home with three beautiful children, as a family of five! What a change this has been!
We are so thankful for the three little lives God has entrusted to us and that we get to be a family together.
Our three children are full of life and energy! Rafi will be 8 in May, Meb just turned 6, and Rachelle is 3 1/2. They like playing together and are happy most of the time. Rafi is deaf and attends a school for the deaf where he is learning ASL and English. He loves building with Legos and is artistic. Meb is looking forward to starting Kindergarten in August. He also enjoys building things and playing sports. Rachelle loves following mom around the house and helping in the kitchen. She loves to sing and read books.
We've been home now for just over half a year and are doing pretty well. As you can imagine, there are lots of adjustments and transitions that have taken place and continue to occur. However, we look forward to getting to know our children more and loving them for the rest of our lives!
---
Considering adoption?
We guide adopting families through the fundraising process, removing the financial barriers to adoption. Download Lifesong's free adoption financial assistance application to receive matching grants, interest-free loans, and access to our free crowdfunding platform!
Want to support adoptive families?
You can fund grants and loans to help families overcome the financial hurdles of adoption, as well as support orphan care ministries around the globe! 100% of your gift directly helps children in need.